We all need to wear warm clothes in autumn, thick sweaters and long boots are becoming popular. Fall nail ideas are also becoming popular in warm shades. Warm dark burgundy nails, pumpkin nails, and brown nails are all classic fall colors.
Of course, in addition to the classic fall mani colors, we also need innovative color combinations and life requires passionate exploration.
Today, we have compiled some of the most fashionable fall nail ideas for 2021. These fabulous autumn nail designs and colors will both bring you back to the classics and offer you passionate and innovative styles. Come along and enjoy the warm mani of fall.
1. Fall almond nail ideas
Classic almond nails with three colors that make you feel cozy and the length are perfect for everyday or work. These three beautiful fall mani's are to die for.
Beautiful brick red, whether glossy nails or frosted nails look very comforting and warm. Like a creamy candy tan, this is a sweet fall color. And the restrained mahogany color, this style of red is so perfect for fall.
2. Autumn classic nail color
In autumn we need warm and quiet colors, such as moss green and the most classic pumpkin orange.
Green can be paired with some gold foil, and with a tilted-up negative space to create contrast and change. Make your nail style as a whole immediately vivid and lively. People will pay more attention to your creative fall mani.
Pumpkin orange nails you can add some pumpkin-colored glitter, which is as tempting as pumpkin candy or pastry. If you add some painting and dot decoration, a cute and cozy fall pumpkin nail idea is done.
3. Fall Halloween Nails
Cute, easy, or scary Halloween nail ideas. Gooey liquid effects, wandering ghosts, these simple Halloween nail ideas can be DIY'd at home.
If you need more fall Halloween ideas, try gothic style black roses, or scary dissected hearts and bones. Skulls and pumpkin monster flowers are also great Halloween mani ideas.
@/beautyspace_charlotte/
@/snatchedbylulubelles/
4. Fall Gradient Nail Design
A brown gradient with five warm and beautiful browns, if you like more colors, this nail is perfect for you. Spiced coffee, pumpkin, or autumn leaves, all the warm colors of fall are worn on your fingertips.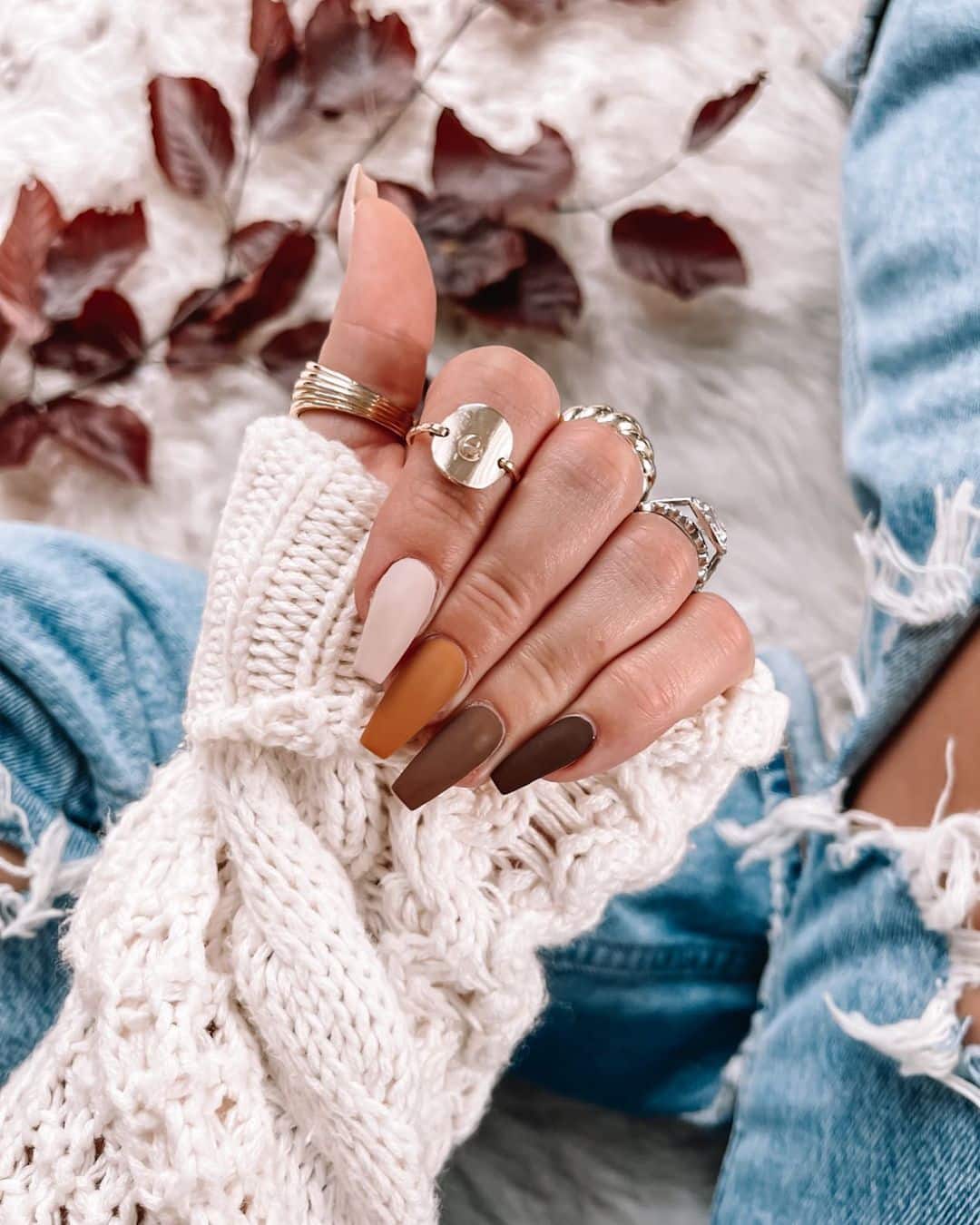 @/emilyc.silverman/
5. Autumn Nude Nail Ideas
Nude glossy nails with the warm and cozy colors of fall. Like hot coffee and tempting berries. This shine is very attractive.
6. Fall Frosted and Matte Nails
Pumpkin and plaid with cappuccino or latte enticing colors. These short fall nails are perfect for every day.
by@/nimynails/
7. Gorgeous long fall nail ideas
If you want some fall passion nail ideas, then here are two somewhat gorgeous long coffin nails you can try.
French tips, flame patterns, frosted embossed effect accents, will surely inspire your fall nail art.
8. Elegant fall nail art ideas
Halloween ghosts, bats, scary eyes, fall color dots, fall leaves, and colors flowing. These are a few elegant and fun fall mani ideas that you can find a lot of inspiration from.